Indian man of 100 goes back to university for PhD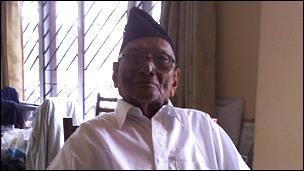 An Indian man of 100 has gone back to university, saying you are never too old to learn.
Bholaram Das had his birthday last week - and to mark the occasion enrolled on a PhD course in north-east Assam state.
"If my son can get a PhD at the age of 55, why can't I do it at 100?" said Mr Das, possibly India's oldest student.
He was imprisoned for opposing British rule in 1930 and went on to work as a teacher, lawyer and judge in Assam before retiring in 1971.
Mr Das was 19 when he was jailed for protesting against British rule.
He was sentenced to two months hard labour and on his release went on to study commerce and law before joining the Congress party.
He told the BBC he was delighted to return to his studies after so many years.
"I have had this in mind since I did my post-graduate in commerce from Calcutta University in the late 1930s, but could not pursue it then.
"I became actively involved in politics, went to jail, then had to take up a job."
The doctoral programme he has embarked on involves field trips, interviews and finally writing a thesis.
But the centenarian is not daunted by the challenge - in fact his ambitions have not diminished over the years. He says that he is very keen to have the prefix "Dr" before his name.
His family say his bid to enter Guwahati University - where he registered to study for his two-year PhD - was received coolly.
"The university didn't want to approve the synopsis of his thesis. But he fought it out with the academics. Later they had to review their decision," his son BK Das told the BBC.
"Now that he has started gathering research material, I, my brothers and other family members have taken up the responsibility to help him."
For his doctorate, Mr Das plans to study a subject close to his heart - the spread of neo-Vaishnavism, a liberal stream of Hindu religion credited with breaking down social divisions in Assam.
"We will take our turns to take dad to the Vaishnavite monasteries and on other field trips. That's an essential part of his research," BK Das said.
Grandson Abhinab - a young computer science engineer - said he had been stunned by the news.
"When I first heard about the plan, I simply didn't pay that much attention - because it was so impossible.
"I didn't even bother to inquire about it. But when my dad called up and said grandpa had already got himself registered for a PhD programme, I simply didn't believe it," he told the BBC.
Related Internet Links
The BBC is not responsible for the content of external sites.