Karachi mayhem continues with 10 more dead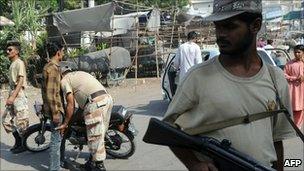 Ten people have been killed in more political and ethnic violence in the southern Pakistani city of Karachi, taking the toll to 35 in barely a day.
Pakistan's president summoned two senior ministers to discuss the crisis in the city, where many hundreds of people have died this year.
A day of mourning is being observed and funerals are being held for some of the dead.
Businesses are closed and public transport is off the roads.
Karachi police chief Fayyaz Leghari said security forces patrols had been stepped up and the situation was improving.
But gunmen have continued to target civilians around the city, says the BBC's Syed Shoaib Hasan in Karachi.
More than 60 people have been killed in the city since the weekend when a provincial assembly by-election was held.
The seat was held by local Muttahida Qaumi Movement (MQM) politician Raza Haider, who was murdered in August.
His death triggered riots that killed at least 100 in a city with a history of ethnic and sectarian tensions.
Militant bombings have also killed a number of people in Karachi since January.
On Wednesday, Pakistani President Asif Ali Zardari summoned Interior Minister Rehman Malik and Sindh Home Minister Zulfiqar Mirza to Islamabad to dicuss the situation.
The meeting comes a day after 12 people were killed in an attack on a car spare parts market. The rest died in a series of attacks elsewhere. All the dead are civilians.
The market is located in the south of Karachi, within walking distance of the city's main dockyard.
Most shopkeepers in the area belong to the Urdu-speaking community that traditionally supports the MQM, which is part of the governing coalition in Sindh province.
The violence has pitted the MQM on one side and the Awami National Party (ANP) and the Pakistan People's Party (PPP) - backed by the Pashtun and Balochi communities - on the other.
The MQM held onto Mr Haider's seat. The ANP boycotted the by-election.
Related Internet Links
The BBC is not responsible for the content of external sites.