Former Pakistani President Farooq Leghari dies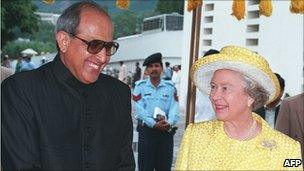 Former Pakistani President Farooq Leghari has died after a long illness.
Mr Leghari helped found the Pakistan People's Party (PPP) which now leads the country's coalition government.
He served as president for four years in the mid-1990s, dismissing the government of Prime Minister Benazir Bhutto in 1996.
The country's eighth president, he resigned before completing his five-year term after differences with the next Prime Minister, Nawaz Sharif.
Born into a wealthy political family - his father served as a cabinet minister soon after independence - Mr Leghari studied at Oxford University before returning to Pakistan to join the civil service.
He was a founding member of the PPP under future Prime Minister Zulfikar Ali Bhutto in the 1960s.
Mr Leghari served a brief stint as foreign minister in 1993 during Benazir Bhutto's second period in government.
After his resignation as president, he founded the centrist Millat Party and was elected to the National Assembly in 2002 elections as its leader.
His funeral is being held on Wednesday in his home town of Choti Zaireen in the province of Punjab.
Related Internet Links
The BBC is not responsible for the content of external sites.