Pakistan court delays ruling on selection of top judges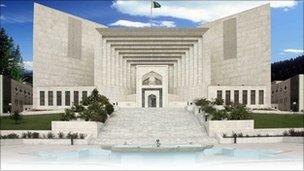 Pakistan's Supreme Court has told parliament to review a decision which gives the legislature a say in the appointment of top judges.
The proposal is one of several constitutional measures passed by parliament in April.
The ruling was in response to a series of legal challenges to the constitutional reform package.
It comes amid a separate stand-off between the court and the government over corruption charges.
The BBC's M Ilyas Khan says the court ruling on Thursday has been welcomed by many legal experts because it stops short of triggering another confrontation between the judiciary and the government.
The constitutional amendments bill received overwhelming support in both upper and lower houses of parliament.
Measures included transferring key powers from the office of president to the prime minister and granting parliament a role in the appointment of top judges.
"We would like to refer to the parliament for reconsideration, the issue of appointment process of judges to the superior courts," said the judgement read out in English by chief justice Iftikhar Muhammad Chaudhry.
Lawyers argue that appointing judges through a commission headed by the chief justice - but with nominations approved by MPs - jeopardises the independence of the judiciary.
Pakistan's highest court has been locked in a stand-off with President Zardari's government since December, when judges abolished an amnesty that gave the president and 8,000 others indemnity from corruption charges.
In December the court struck down an amnesty - known as the National Reconciliation Ordinance (NRO) - which meant that President Asif Ali Zardari could face challenges to his rule.
There are still court cases pending in Pakistan against Mr Zardari, who spent years in jail on corruption charges he says were politically motivated.
His office currently provides him with immunity from prosecution.
Related Internet Links
The BBC is not responsible for the content of external sites.