India puts stop to expansion of Vedanta aluminium plant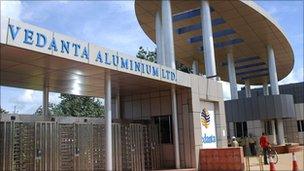 India's environment ministry has ordered Vedanta Resources to halt a sixfold expansion of an aluminium refinery in Orissa, eastern India.
In a letter on its website, the ministry ordered Vedanta to "maintain the status quo" and undertake "no further construction activity".
It is another blow for the company, which in August was denied permission to mine bauxite on local tribal land.
Campaigners welcomed the news, saying the company had ignored local people.
Vedanta did not immediately respond to a request for comment, though last week it reportedly insisted there had been no regulatory violations of any kind at the refinery.
In 2006, Vedanta applied for permission to massively expand the plant at Lanjigarh in Orissa, to boost output from one million tonnes to six million tonnes.
In its letter, the environment ministry said experts visiting the site found that illegal work had already begun to expand the plant, without the needed permits, Associated Press reported.
Now the ministry has ordered any such work to stop immediately - though it is unclear whether this will mean the end to the expansion plans or whether the company will be able to tweak its plans and reapply for permission to expand. The company could even be told to shut down the plant entirely.
Government officials told news agency Reuters that Environment Minister Jairam Ramesh was likely to take a final decision on Vedanta this week.
The UK-based company had already suffered a setback in August, when it was denied permission to mine bauxite - the main raw material used in the production of aluminium - from hills around the refinery.
In that case, the judge accused the company of serious violations of environmental protection laws and said the mining would have an "unacceptable" impact on the rights of local tribes.
Vedanta is also facing obstacles in its ambitions to acquire a $9.6bn (£6.1bn) controlling stake in energy company Cairn India.
"Vedanta is learning the hard way that it cannot ride roughshod over tribal peoples forever," said Stephen Corry, director of Survival International, a leading member of the international campaign against Vedanta's plans in Orissa.
"Other companies should learn from Vedanta's mistakes: before investing time and money in a project, a company must gain the consent of local tribal communities."
Related Internet Links
The BBC is not responsible for the content of external sites.