Sri Lankan government urged to return gold and jewels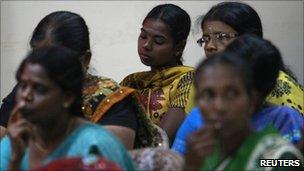 A Sri Lankan politician has demanded that the government return gold and jewels seized during the final stages of the war against Tamil Tiger rebels last year.
Mano Ganesan's demand comes after the government reportedly disclosed details about gold jewels "collected" by the army in the Wanni region.
Reports say the jewels weighed 110kg and were valued at about $4.4m.
They have been handed over to the country's central bank, reports say.
Mr Ganesan, who also leads a civil rights group, has demanded return of the jewels to the rightful owners, after proper verification.
He told BBC Tamil that the jewels "must have been picked up from the 'bank' run by the Tamil Tigers".
Tamil people, especially the poor, had reportedly pledged their jewels with a bank run by the Tigers for their emergency needs, he said.
He said the government had detained nearly 8,000 former rebels and leaders, including those who ran the "bank".
Mr Ganesan said the government could also ask displaced Tamil people in the resettled areas and camps to determine the number of people who have lost their jewels during the war.
Related Internet Links
The BBC is not responsible for the content of external sites.