Six Pakistani troops killed by landmine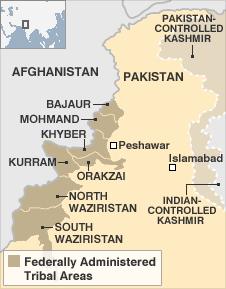 Six soldiers have died in a roadside bomb in a part of north-west Pakistan where the military declared victory over Islamist insurgents this summer.
A colonel was among those killed in the blast at Orakzai tribal region, near the Afghan border, officials say.
The convoy of paramilitary troops was hit by a remote-controlled landmine in the Yakh Kandaw area.
Meanwhile, at least two people died when a bomb went off in a mosque on the outskirts of Peshawar, police say.
The explosion in Orakzai destroyed the vehicle in which the six soldiers had been travelling to the city of Kohat.
One report said this was the third bomb attack targeting soldiers on patrol in the area since Tuesday.
Pakistani forces said in June they had defeated militants in Orakzai, following an offensive against the Taliban in the region that lasted more than two years.
But Orakzai residents say not all the Taliban hideouts in the area were wiped out.
The region has also attracted militants looking for a haven from army operations in the other parts of the tribal belt.