Malaysia party in India PM appeal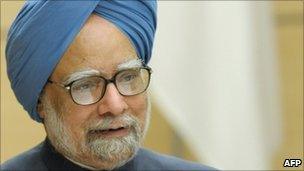 A Malaysian party has urged India's PM to highlight alleged discrimination against Indian minorities during his official visit the country.
The Human Rights Party says that though Malaysia has one of the largest Indian populations outside India, they feel marginalised in their own country.
Ethnic Indians make up about 8% of Malaysia's 28 million people.
Prime Minister Manmohan Singh is due to arrive in Kuala Lumpur on Tuesday on the second leg of his Asian trip.
The pro-Indian Human Rights Party was launched by P Uthayakumar, an ethnic Indian who spent 17 months in jail for his role in anti-government protests in December 2007.
It says that the rights of the ethnic Indians have been violated, alleging discrimination in education as an example.
The party says about 2,000 Indian students who score straight As are denied government scholarships or entry into public universities every year.
It has urged Mr Singh, who began his tour of the region in Japan, to grant more scholarships to Malaysian-Indian students to study in India.
A policy that favours the Malay-majority means there is a quota system for education, employment and setting up businesses, says the BBC's Jennifer Pak in Kuala Lumpur.
The Malaysian government has announced measures to promote fairer opportunities.
But the Human Rights Party says similar promises made by the governing coalition have not been kept.
Related Internet Links
The BBC is not responsible for the content of external sites.