Building collapse kills Afghan wedding guests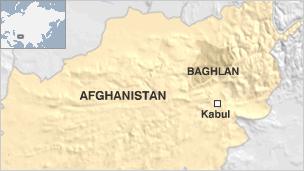 At least 60 people have been killed after part of a building collapsed on guests at a wedding in northern Afghanistan, officials say.
The incident occurred in Jelga, a remote district in the northern province of Baghlan.
Officials said most of the dead were women and children who were celebrating separately from the men, according to Afghan tradition.
It was not clear if the roof or a floor had given way at the mud brick house.
Munshi Abdul Majid, the governor of Baghlan, said the wedding party was being held in a three-storey house and one of the floors had collapsed.
"This is such a tragedy at a time when the family was gathering for a happy moment," he told the BBC.
Provincial police chief Jawad Bashart said the roof had collapsed on the women and children who were on the top floor of the house.
He put the death toll at 65, while the Afghan Red Crescent said about 60 people had died. At least 40 people are reported to be injured.
Baghlan health chief Dr Salim Rasouli said getting help to the victims in such a remote area was difficult.
"We don't have any access. The nearest clinic to that area is in the neighbouring district," he said.
Baghlan government spokesman Mahmood Haqmal said the weight of so many people and the age of the house could have caused the collapse.
"Phones don't work in the area and the flow of information is slow," he added.
The country's Western-backed government has been embroiled in conflict against a Taliban-led insurgency since the Islamist group was ousted from power by a US-led invasion in 2001.
More than 150,000 foreign troops remain in the country, although the conflict is focused in the south and east.
Related Internet Links
The BBC is not responsible for the content of external sites.