Sri Lanka court jails Tamil for Kumaratunga attack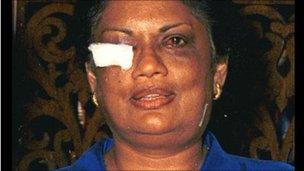 A court in Sri Lanka has sentenced a Tamil man to 30 years in prison for his part in the attempt to kill former President Chandrika Kumaratunga.
Satyavel Thilangeswaran, 29, was a Tamil Tiger who smuggled in explosives used in the attack, the judge said.
Twenty-eight people were killed and 80 injured in the blast at an election rally in Colombo on 18 December 1999. Mrs Kumaratunga was blinded in one eye.
Thilangeswaran pleaded guilty to the charges. Three others are on trial.
Last year Sri Lanka's armed forces defeated the rebels, who had spent more than two decades fighting for a separate state for Tamils in the island's north and east.
The United Nations estimates the ethnic conflict killed up to 100,000 people.