Indian poll candidates' time warp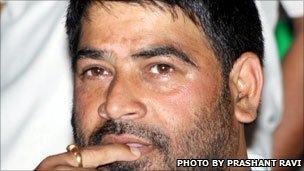 Election candidates in India's Bihar state appear to be growing younger and older at considerable speed, if their personal details are to be believed.
An election watchdog has called for action to be taken against the politicians after the wrong ages appeared in their poll documentation.
The candidates blame printing errors for the mistakes on the affidavits.
It is not clear why they would lie about their age as there would be little to gain politically.
Candidates can be disqualified for giving false personal information. But officials say no complaints have been received, so no action will be taken.
The election to the 243 seats in the assembly of the state is happening in six stages over a month, ending on 20 November.
If you believe the affidavits they submitted to the election authorities, a number of Bihar's politicians have grown younger and older since the last election:
Anant Singh, a ruling Janata Dal (United) lawmaker, was 41 years old when he fought the last state elections in 2005. This time, he filed his nomination saying he was 49.
Ajit Kumar Singh, another Janata Dal (United) candidate, was 37 years old during the 2005 polls. He is still stuck at 37, according to his latest affidavit.
Sadhu Yadav, a Congress party candidate, was 44 when he contested the general elections in 2004. Six years later, he is 47, according to his affidavit as a candidate for the state polls. When the BBC asked him what his age was, Mr Yadav said: "I am 40."
Anjesh Kumar, a spokesman for an independent election watchdog, said authorities should have taken action against the candidates for "falsifying their ages".
But Bihar election official Kumar Anshumali said all the candidates were older than the minimum age of 25 years for standing in an election.
"If someone lodges a complaint against them for furnishing wrong personal information only then we can take action. It is not such a serious thing that we should go after them on our own," he said.
Some candidates, like Mr Yadav, attributed the error to a "printing mistake".
Studies carried out by election watchdogs have found the number of multi-millionaires contesting the election in Bihar had grown to 200, from 36 in 2005.
"Money power is playing a bigger role in elections than ever before," Anjesh Kumar said.
The eastern state of Bihar is one of India's poorest and most corrupt.
Related Internet Links
The BBC is not responsible for the content of external sites.