'Eleven militants killed' in Pakistan drone attack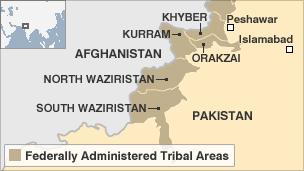 At least 11 suspected militants have been killed in drone strikes in north-west Pakistan in the past 24 hours, local officials say.
Officials say planes fired two missiles into a militant compound in North Waziristan early on Thursday, killing at least five people.
And up to six militants were killed in strikes in the area on Wednesday.
The lawless region, a haven for members of the Taliban and al-Qaeda, has been repeatedly targeted by US drones.
Thursday's attack in Ismail Jhel village, about 40km (25 miles) west of Miran Shah, the main town in North Waziristan, killed at least three foreign militants, officials said. The men were said to be Arabs.
An unnamed official told the AFP news agency that at least two other people were injured in the attack.
"The target was a militant compound. Three Arabs, one Afghan and one local were killed in the attack," he said.
The identities of the dead are not yet known.
Officials said that drone strikes killed at least six militants in the tribal region on Wednesday.
About 70 drone strikes have killed more than 200 people in North and South Waziristan since the start of 2010, officials say.
Pakistan publicly criticises drone attacks, saying they fuel support for militants. But observers say officials privately condone the strikes.
The US military and CIA do not routinely confirm that they have launched drone operations, but analysts say only US forces have deployed such aircraft in the region.