Sri Lankan arrested in India with diamonds in stomach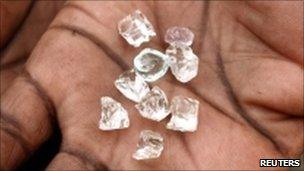 Police in India have arrested a Sri Lankan man with 2,060 diamonds and other precious stones in his stomach.
The man was arrested on arrival at the airport in the southern city of Madras (Chennai) on Tuesday, police said.
The stones - estimated to be worth between $337,000 (£211,747) and $674,000 (£423,485) - have been recovered, police said.
Once doctors confirmed the presence of stones in his body, the man was fed laxatives and bananas to eject them.
Senior police officer in Madras SR Jangid told a press conference he received a call about the man on Tuesday morning from a "reliable informant".
The man had successfully cleared the customs and immigration and a search of his bags did not yield anything, police said.
"Even during questioning, he could not sit comfortably and when questioned, he told the police that he was suffering from piles," the Times of India newspaper quoted Mr Jangid as saying.
"The police grew suspicious and took him to Chromepet Government Hospital. When doctors examined him, they found the stones lodged in his gut."
Mr Jangid said the stones were stored in 42 condoms and it took the police six hours to retrieve them.