Tracking the journey of Mumbai's first woman train driver
By Prachi Pinglay
BBC News, Mumbai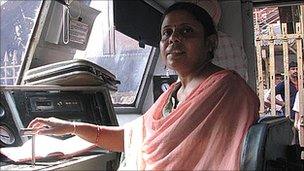 Priti Kumari, 34, is the first woman train driver on India's vast western railway network.
On 12 October, she became the latest to join the ranks of about a dozen women train drivers in India.
Now, she is getting used to running Mumbai's lifeline - the suburban train. She is also getting used to the incessant media attention and passengers coming to congratulate her.
India has one of the largest railway networks in the world with about 25,000 drivers.
The western railways suburban network - covering a distance of more than 100km (62 miles) - ferries 3.3 million passengers every day with a train running every three minutes.
Priti Kumari, who comes from a small village in the northern Indian state of Bihar, is the first woman from her village to step out and do something different. And she is proud of it.
"It is not just about me, now everyone knows the name of my village. How often can that happen?" she asks.
Ask her if her journey was tough and back comes the reply: "If it wasn't tough, would you come and interview me?"
While we sit talking at Dadar station, one of the busiest in Mumbai, passengers stop by to say hello.
She hands out sweets to them. "We are travelling all the time and I want to share this joy with most people, so I carry a box of sweets," she explains.
"When some fisherwomen saw me in the motorman's cabin, they sang and danced for me. It was lovely," she says.
Conscious of the prestige the job brings her, Priti Kumari says she wants to work hard and prove herself.
"I have to do better than others so that no one says she messed up because she is a woman."
Railway drivers do not have fixed weekly off days and one has to be extremely alert on the job. Her working day is a six to seven-hour shift in which she makes up to four trips.
But the job comes with several benefits - higher pay, accommodation in railway quarters, free medical care and a pension.
Eldest among four siblings, Priti Kumari's brother and younger sister are also employed with the railways - her sister is a driver with the Delhi Metro.
Attributing her success to her parents' efforts, she says: "My mother and father always encouraged us to study, gave us examples of [the astronaut of Indian origin] Kalpana Chawla and said there was no difference between a girl and a boy."
I ask her that after getting a diploma in electronics and a degree in history, how did she land up in this profession?
"My parents are social workers. I too felt I should do something for people but I needed financial stability. So what's better than this job! What is the point of going on a path which is already laid out and walked by many?" she asks.
Priti Kumari says her role mode is Surekha Yadav, India's first motorwoman.
"I spoke to her before and after my first journey. She was very encouraging. She told me to stay chilled!" she says, breaking into a hearty laugh.
A chirpy woman, she is careful not to give opinions about the crowds, delays, or anything remotely controversial.
At work she has been welcomed warmly into the "family" by her colleagues.
"In fact, they all said that Lakshmi (the Hindu goddess of wealth) has arrived. It will all be good now."
Railway spokesman Sharat Chandrayan said Priti Kumari underwent training like any other train driver.
But, considering she is a woman, she is exempted from doing night shifts, he said.
Even then, her job has meant separation from her seven-year-old daughter.
"I have left her with my mother so that her studies are not affected because of my job. Once I get settled, we will bring her here," she says.
Her husband, a technician working with the Indian air force, has been recently transferred to Mumbai so she hopes that her personal life will settle soon as she gets used to the professional grind.
For the moment though, it's her job that is keeping her focused.
"We have to watch out for any movement on tracks, signals, train movements, passengers. It is not easy. But I believe a woman has the ability to adapt to any situation and perform well," she says.
Related Internet Links
The BBC is not responsible for the content of external sites.