World's big enough for India and China, says Chinese PM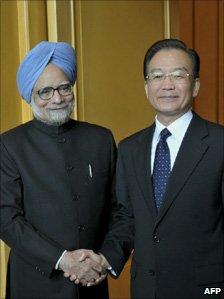 Chinese PM Wen Jiabao has told his Indian counterpart, Manmohan Singh, that there is "enough space" in the world for both countries to develop.
His comments came during a meeting on the sidelines of a regional meeting in the Vietnamese capital, Hanoi. Mr Wen said he would visit India this year.
China is India's largest trading partner; two-way trade volumes surpassed $50bn (£31bn) in 2008.
The two nations fought a brief border war in 1962, but ties have improved.
Tensions remain, however, between the rising regional powers over their shared 3,500-km (2,170-mile) border, decades on from the conflict, which China won.
Another bone of contention is the presence in India of exiled Tibetan leader the Dalai Lama.
Beijing and Delhi have had a "strategic and co-operative partnership" since 2005.
"There is enough space in the world for India and China to achieve common development... to have co-operation," Mr Wen said at Friday's meeting with Mr Singh on the sidelines of the of the Asean meeting.
"We must strive to ensure the sound and steady growth of our relationship," he said.
Reports in the Indian media say Mr Wen is expected to visit India on 16 December.
The Chinese premier said the two countries will reach a "consensus on some major aspects to lay a foundation for the visit".
The leaders' meeting was the first top-level contact between Beijing and Delhi since last year's dispute over visas issued by China for travellers from Indian-administered Kashmir.
India said the decision by China to issue hand-written visas on loose sheets of paper stapled to the passport suggested Beijing viewed Kashmir as disputed territory.
China gave no explanation for the move.
Related Internet Links
The BBC is not responsible for the content of external sites.