Court upholds disqualification of Karnataka rebels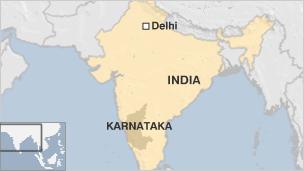 A court in India's Karnataka state has upheld the decision of the speaker of the state assembly to disqualify 11 rebel lawmakers.
The governing BJP was reduced to a minority when its lawmakers mutinied, but later won a vote of confidence to stay in power.
The rebels were disqualified under laws designed to stop legislators from defecting without giving prior notice.
They now plan to appeal against the verdict in the Supreme Court.
The disqualification will have no impact on the government, since it has already won a vote of confidence, correspondents say.
None of the rebels was allowed to take part in the vote earlier this month.
"It is a victory for us. All attempts to topple this government have failed," said Chief Minister BS Yeddyurappa about the Karnataka High Court ruling.
His ruling Hindu nationalist BJP has alleged that the opposition Congress and Janata Dal Secular parties had "conspired" to topple the government in Karnataka. They deny the charge.
The BJP has a simple majority of 106 members in the 208-seat assembly.
One of the rebel legislators, Belur Gopalarkrishna, told the BBC that this was not the end of the road for them: "We will challenge the order in the Supreme Court."
Karnataka is the only southern Indian state where the BJP wields power.
Related Internet Links
The BBC is not responsible for the content of external sites.