Further Bangladesh clashes as opposition holds strike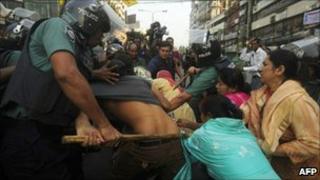 A second successive day of clashes has taken place between police and opposition supporters in the Bangladeshi capital, Dhaka.
Officers used tear gas, rubber bullets and batons to disperse supporters of the Bangladesh Nationalist Party (BNP).
The BNP had called a day-long general strike in protest against the eviction on Saturday of its leader, Khaleda Zia, from her home of nearly 30 years.
The government says the lease on the house was not legal.
Sunday's clashes took place when hundreds of BNP supporters gathered near the party's headquarters and shouted slogans in support of Ms Zia. Witnesses said several people were injured.
The BBC correspondent in Dhaka, Anbarasan Ethirajan, says schools, businesses and most offices were shut by the strike, while public transport was severely disrupted across the country.
Thousands of people who were hoping to go to home for the forthcoming Muslim festival of Eid-ul-Adha were unable to leave Dhaka.
Rivals
On Saturday, scores of people were injured and many vehicles were set on fire during clashes.
Ms Zia was forced to leave her home in a military compound in Dhaka after a ruling by the High Court.
She says she was dragged from the house, while the military says she left voluntarily.
The residence was leased to Ms Zia after the assassination of her husband, the former president, Gen Zia-ur-Rahman, in a military coup in 1981.
Her supporters argue that the government's decision to evict her was political.
Ms Zia has twice served as prime minister and is a rival of the current prime minister, Sheikh Hasina, of the Bangladesh Awami League.