India PM Manmohan Singh denies 'inaction' claims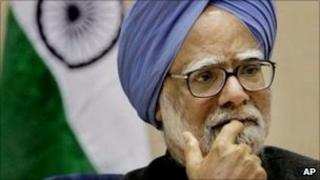 India's prime minister has rejected accusations that he acted too slowly over prosecuting a former minister.
India's Supreme Court wants Manmohan Singh to explain 16 months of "alleged inaction" over a scandal involving the sale of mobile phone licences.
Telecoms Minister A Raja has resigned over allegations he sold mobile phone licences for billions of dollars less than their value. He denies the claims.
Mr Singh said anyone found guilty over the scandal would be punished.
The BBC's Chris Morris in Delhi says the widening scandal involving the allocation of second-generation (2G) mobile phone licences is fast becoming a major challenge for the Indian government.
Federal auditors say rules were flouted when the licences were put up for sale in 2008.
Licences in the lucrative market had been sold at "unbelievably low prices" - the loss to the government could be as high as $39bn (£24.3bn), they said in a report.
Mr Raja resigned a week ago, denying any wrongdoing.
The Supreme Court then asked the prime minister or any official on his behalf to submit a reply in writing by Saturday.
Government lawyers have now filed the affidavit, which argues that investigations are already well under way.
Mr Singh touched on the issue during a news conference.
"There should be no doubt in anyone's mind that if any wrong thing has been done by anybody, he or she will be brought to book," Mr Singh said.
Allegations are now flying thick and fast, our correspondent says, and potentially damaging tapes of telephone conversations between an influential lobbyist and senior business and media figures have reached the public domain.
But attention is focused primarily on the prime minister himself, who has an unblemished reputation for probity in a system where corruption has become all too common, he adds.
The opposition has blocked parliamentary business for days, and it senses an opportunity to cause significant political damage.
Opposition MP Subramanian Swamy says he wrote letters to Mr Singh in 2008 calling for Mr Raja's prosecution.
In India, the prosecution of a cabinet minister has to be cleared by the prime minister.
He says Mr Singh took more than a year to reply, which the government denies.