Legal limbo Tamils beg for mercy or trial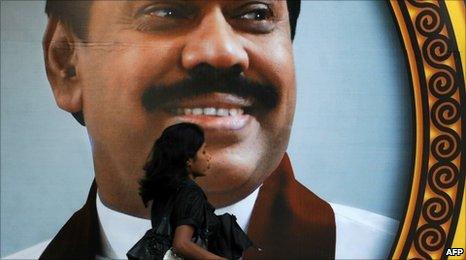 Hundreds of Tamils detained for years on charges of helping the Tamil Tigers have asked Sri Lankan President Mahinda Rajapaksa to show mercy or grant them a trial.
The detainees were arrested under prevention of terrorism legislation introduced as a temporary law in 1979 and made permanent two years later.
Under the act, suspects can be held for up to 18 months without charge or trial.
But some detainees have spent more than 10 years in jail, with cases still pending in courts.
Human rights activists say more than 650 Tamils, including about 50 women, are suspended in legal limbo in Sri Lankan jails.
A few of the detainees, whom the BBC interviewed by phone, said they want the president to look into their plight.
"The Sri Lankan government has so far released more than 5,000 LTTE [Tamil Tiger] cadres who had surrendered to the army during the final phase of the war. We are begging the president to show us the same leniency," said one inmate.
He said he was arrested on suspicion of aiding the LTTE from the eastern town of Batticaloa in 1997.
Tamils held under the Prevention of Terrorism Act are detained in separate jail cells.
Another man, who said he has been in prison since 1999 accused of involvement in a bomb blast, says there has been little progress in his case.
"After my arrest the police tortured me and forced me to sign many papers," he claimed.
"I have been going to court for the past nine years. The only evidence the prosecution has is my confession paper."
He said his family is too scared to visit him for the fear of being noted by security agencies.
Government officials deny torture has been used during interrogation.
Most of these detainees were arrested on suspicion of having gathered intelligence for the LTTE or providing logistics for its covert operations.
But activists say the Prevention of Terrorism Act has been widely misused.
Periyasamy Chandrasekaran, a well-known Tamil labour leader from the tea-growing region of central Sri Lanka, was detained under the act for a brief period.
After his release he went on to become an MP and a cabinet minister.
But many others ended up spending long years in prison.
Last month, a Tamil man, Satyavel Thilangeswaran, was sentenced to 30 years in prison for his role in the attempted assassination in 1999 of former president Chandrika Kumaratunga.
Twenty-eight people died in the blast; Mrs Kumaratunga survived, but was blinded in one eye.
Recently, Thilangeswaran, 30, who has always denied the attack, pleaded guilty to the charges, hoping it would lead to his release.
"I was advised by my lawyer that if I plead guilty I will be given a maximum of 15-year imprisonment," he told the BBC.
"Since I have already spent 10 years in prison, I accepted his advice. But the court has given 30 years."
Speaking to BBC through an intermediary, Thilangeswaran said he regretted his decision.
He still maintains he is innocent and hopes to get justice in the appeal court.
Colombo-based human rights activist Mekala Shanmugam said there is no need for this draconian law now the civil war is over.
"Some of these prisoners might have helped the LTTE. But now the war has ended. A former LTTE commander [Vinayagamoorthy Muralitharan] is now a minister," she said.
"The government has given general amnesty to thousands of former cadres. Government should release these prisoners or speed up their trial."
Political analyst DBS Jayaraj blames the nature of the anti-terror law for their long wait for justice.
"The basis of law is that one is presumed innocent until or otherwise proven guilty," he said. "But under the Prevention of Terrorism Act, one is presumed guilty until proven innocent.
"This leads to distortion of justice. It seems their cases have fallen through a crack."
Amnesty International, too, has called upon the Sri Lankan government to speed up the trial.
Yolanda Foster, a spokeswoman for the human rights organisation, says not many lawyers are willing to appear for these detainees because they fear repercussions.
The Sri Lankan government admits there is a huge delay, but says it has yet to decide whether to release or charge the detainees.
The new Justice Minister, Rauf Hakeem, recently said he had told the attorney general to review the cases of the Tamil political prisoners.
But for many suspects who have spent anywhere between a third to half of their adult life behind the bars, the wait is unbearable.
"We are routinely taken to courts and brought back to prison," said one inmate. "I feel it is better to die than to suffer like this for years."