India's Bihar leader Nitish Kumar in landslide victory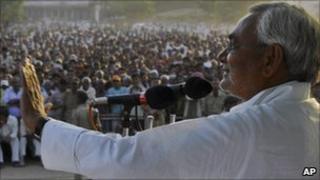 The chief minister of India's northern Bihar state has won a landslide victory in assembly elections.
Nitish Kumar's Janata Dal (United) party-led alliance won at least 200 of the 243 seats in the Bihar assembly.
Mr Kumar described it as "a victory for the people of Bihar" and "a vote for development".
Jubilant supporters danced in the streets and lit firecrackers in the state capital, Patna.
Mr Kumar's main rival, former federal Railways Minister and Bihar ex-chief minister Laloo Prasad Yadav, conceded defeat and congratulated Mr Kumar on his win.
Bihar is one of India's poorest and most corrupt states but many say it has turned the corner under Mr Kumar.
'Move forward'
The election to the assembly was held in six stages staggered over a month.
Mr Kumar has an alliance with India's main opposition Hindu nationalist BJP.
The win represented a huge jump from the 143 seats the alliance controlled in the last assembly.
"I thank the voters and people of Bihar for the massive win," Mr Kumar told reporters in Patna.
"The people were faced with a question - will they move forward or will Bihar will return to the darkness of earlier times?
"People chose to move forward and that is why it is their victory," he said.
Mr Kumar said he had worked hard for the past five years and would "work harder" over the next five "to serve the people of Bihar".
For decades, Bihar has been known as India's most backward and lawless state.
But after Mr Kumar took over, many say the state has seen development rise and crime rates fall.
Growth rate questions
The Janata Dal-BJP alliance is opposed by a number of other regional parties and the Congress party, which governs nationally.
Despite widespread campaigning, Congress failed to make any headway in the state. Official results gave the party just four seats, AP reports.
"The results indicate we have to start from the scratch," Congress president Sonia Gandhi told reporters in Delhi.
Mr Kumar pledged to transform Bihar into a "developed state" by 2015 and asked voters for a second term to improve its infrastructure, health and investment profile.
His government says that Bihar clocked up a growth rate of 11.03% in 2008-09, which would make it India's second fastest growing state economy, just behind the industrially-developed western state of Gujarat.
But critics question this claim, saying last year's economic survey - a federal government publication - showed the growth rate was just 5%.