Pakistani interior minister denies flood aid corruption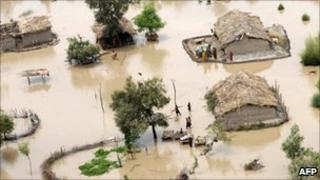 Pakistan's Interior Minister Rehman Malik has defended the way his country is distributing millions of dollars of flood relief.
His comments follow allegations of corruption from flood affected people.
The government has launched a huge compensation scheme under which people can withdraw cash aid from local banks using special electronic cards.
Some people say they have been denied cards, while others say payments made have disappeared from their accounts.
Under the compensation scheme, the government will eventually give more than 85,450 rupees ($1,000, £631) per household to 1.5 million families who have been directly affected by the disaster, reports the BBC's Jill McGivering.
So far, some 38,000 cases of fraud are being investigated, our correspondent says.
In an interview with the BBC, Mr Malik described the electronic card system being administered by the government as "foolproof".
He said the problems with the scheme were due to the public's dishonesty, and not official corruption.
However Mr Malik acknowledged instances of identity fraud and an illegal market in compensation cards.
Recently, Pakistan announced mid-year measures to raise more than $700m (£435m) to support people affected by monsoon floods over the summer.
A study of flood damage conducted by the World Bank and the Asian Development Bank have put total losses at about $9.7bn (£6bn).