Karzai comments expose tensions over US Afghan strategy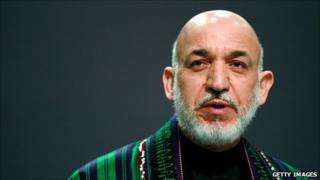 How hard is it for US-led forces to wage war in Afghanistan if the Afghan commander-in-chief does not like their strategy?
That question has been forced onto the agenda after President Hamid Karzai went public with concerns he has long voiced in private.
At the Nato summit in Lisbon last week, the Afghan leader told a news conference there were Afghan "differences and concerns." President Obama admitted there were "blunt" conversations.
Afghan and Western officials say President Karzai is not opposed to the current presence of 140,000 foreign troops on Afghan soil. But if he had his way, foreign soldiers would not be conducting night raids and living among Afghan villagers trying to win "hearts and minds." It is an issue of sovereignty.
"He wants us to fight a war without fighting," complained one Nato official who insisted the strategy was now producing results in "regaining the momentum" against the Taliban.
Going public
On a recent visit to Kabul, President Karzai told me about his growing "mistrust" over not just the military strategy but the wider international engagement, which is now in its 10th year.
"If am raising questions, what about other Afghans?" he asked. He described himself as having long been among the most pro-Western of Afghans.
His recent decision to go public with his objections in a Washington Post interview has put his views squarely at the centre of discussions with his allies - most of all the United States, whose commander, General David Petraeus, is driving the new approaches.
The timing of his remarks - just before last week's crucial Nato summit - revived concern about a president often described as erratic. His comments are said to have "unsettled" US General David Petraeus.
But a European foreign minister who has been involved in Afghanistan for many years asked: "How else do you make the US sit up and listen?"
One Western diplomat cautioned that Mr Karzai had been proven right before. "For years the president expressed concern about Taliban sanctuaries in Pakistan, but we are only addressing this issue now."
'He blinked'
During talks in Lisbon between the two presidents and their teams, the Afghan leader pointed out he had been saying for at least five years that too many innocent civilians were being killed in night raids.
Sources at the meeting say he even called for a distinction to be drawn between "terrorists" and Taliban - a remark which underlines the president's own ambivalence about whom he considers to be the enemy.
But, perhaps mindful of the consequences, he held back at that meeting from taking issue with the overall strategy known as counterinsurgency, or COIN. It emphasises foreign troops moving into villages to "protect the population" and engaging "hearts and minds".
"He blinked," was the way one official at the meeting put it. "He knows that if he moves against the strategy rather than some tactics, he takes on the man who defined it - General Petraeus. "
The British Foreign Secretary William Hague made light of the differences.
"It's not a fundamental problem on the ground. Where the actual fighting is going on, there is very good cooperation between our forces and the Afghan army," Mr Hague said in an interview in Lisbon.
Is Nato winning?
Some senior members of President Karzai's team say they agree with General Petraeus's assessment that significant progress is being made in killing or capturing hundreds of mid-level Taliban commanders, largely through greater reliance on night raids and special forces.
"A possibility for real change has been opened up. We must all make sure this momentum is not reversed," says former Finance Minister Ashraf Ghani, now playing a lead role on the President's "transition" team.
But one European military expert involved in the Nato mission was more cautious, saying: "There are signs of progress, but we are still not sure if there are signs of sustainability."
Most observers say it will not be clear until the spring, when fighting traditionally picks up, if a real blow has been dealt to the insurgency.
"If lots of young newly-trained fighters emerge to replace mid-level commanders, then we have a real problem," admitted one Western military advisor.
'Shopkeeper from Quetta'
Afghan and Western sources also say there has been little real progress in talks with the Taliban and other armed groups, despite some contacts and conversations.
Afghan and Western officials speak with exasperation about "a shopkeeper from Quetta" who recently came to Kabul, with assistance from Nato forces, posing as a senior Taliban commander known as Mullah Mansour. This revelation has now dealt a serious blow to the credibility of the process.
For now, President Karzai is trying to reassure his allies he believes in their "comprehensive strategy" - and they are trying to tell him they are listening.
His own team is divided between those who play on his fears of Western conspiracies and those who warn him not to jeopardise his relationship with his key US ally.
But after nine difficult years in power, the leader long described as "a reluctant commander-in-chief" is now speaking his own mind, whatever the consequences.