India confirms arrest of Manipur rebel leader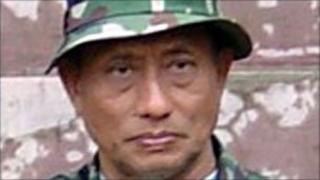 A separatist leader from the north-east Indian of state of Manipur has been produced in a court in the country.
Rajkumar Meghen, who heads the United National Liberation Front (UNLF), appeared in a court in Bihar state and was remanded in custody for three days.
It is the first time Indian officials have confirmed Mr Meghen's arrest.
Last month, senior Indian intelligence officials told the BBC that he had been arrested by Bangladeshi police in September and handed over to India.
The police chief in Bihar's East Champaran district, Paras Nath, told the BBC that the rebel leader had been detained by officials of India's National Investigation Agency (NIA).
"They [the NIA] asked us for help to produce him in court," he said.
The BBC first reported Mr Meghen's arrest in mid-October, but there was no comment from India or Bangladesh.
On Monday, Amnesty International joined the chorus of voices asking India and Bangladesh to disclose Mr Meghen's whereabouts.
Mr Meghen's family said they were relieved his arrest had finally been confirmed.
"Hopefully, we can now organise legal support for him," his son Mei Chinglen said.
The UNLF is the oldest separatist group in India's north-east.
Formed in 1964 to fight for Manipur's liberation from India, the group is estimated to have 5,000 armed fighters.
It is the only group that has managed to retain territory in some areas of Manipur's borders with Burma, despite repeated military offensives by the Indian army.
Bangladesh has handed over more than 50 leaders and activists of Indian separatist groups since a crackdown began in 2009. Many more have fled Bangladesh to evade capture or been caught on the border by Indian guards.