Pakistan's forgotten flood survivors still being found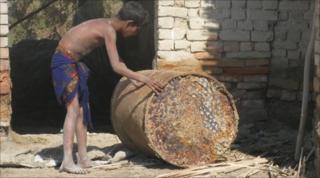 Tens of thousands of Pakistanis cut off by flooding in August have still not received any aid. In Sindh Province, floodwaters are slowly receding and whole communities of desperate people are being identified for the first time. Jill McGivering visited one village in the north-west of Sindh which aid agencies only managed to reach in the past few days.
It was a long, bumpy journey - first by jeep, navigating roads which are partially destroyed by the floods, then by motorbike along dirt tracks and finally by foot along a squelchy mud path which is only just re-emerging from the floodwater.
The small village of Abdul Aziz Chachar barely makes a mark on the landscape. It is a bare expanse of mud, surrounded by floodwater.
Two brick houses and one mud house are still standing.
Contaminated floodwater
The other 16 houses were washed away, along with the village school and mosque.
A pile of bamboo and tree branches is the only evidence that they ever existed.
When they crowd round to talk to us, the villagers still seem to be in shock.
Pirral Faqir, one of the elders, speaks for them all.
For the last few months, he told me, they were marooned, sleeping in the open air without bedding or blankets.
The village tube wells, their source of clean water, were out of action.
All they had to drink was contaminated floodwater. They were constantly hungry. All the livestock gradually died.
As the months passed, many of the villagers became ill with vomiting and fever which they suspect was malaria.
One man had a stroke. Another man, pulled from the floodwater, suffered brain damage.
Three children became so ill that they eventually died. Pirral Faqir solemnly indicated his two younger brothers who each lost a son.
Emergency relief
In all that time, the villagers received nothing from the outside world.
No tents, no plastic sheeting, no building materials for basic shelters, no clean drinking water and no food, apart from one parcel retrieved from an early aid drop.
Just a few days ago, a local aid agency established contact with them for the first time.
The flooding affected about 20 million people in Pakistan - and in the north of the country, the response has already moved to a focus on rebuilding and recovery.
But in parts of Sindh, the need is still for emergency relief.
The initial battle was to provide food and shelter to people who had fled their homes - and gathered on high ground in places like Sukkur where relief camps were set up.
Now those camps are starting to empty as people go home.
That is allowing aid agencies to venture further into the heart of the floods - where they are finding fresh pockets of survivors every week.
Some of them have some desperate stories to tell.