Wipro's Azim Premji makes $2bn Indian charity gift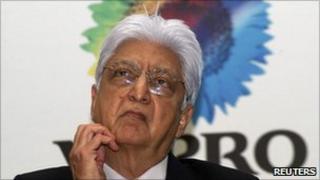 Indian software tycoon Azim Premji has announced he will donate nearly $2bn (£1.3bn) to fund rural education and development programmes.
Correspondents say that it is one of the largest charitable donations in the country's history.
Mr Premji said that he intended to form a new charitable trust for education and was transferring shares worth $2bn from his Wipro company.
He is one of the wealthiest business entrepreneurs in the world.
Market analysts Forbes list him as the third richest Indian and the 28th richest person in the world - with an estimated net worth of more than $17bn (£11bn).
Bangalore-based Wipro employs almost 100,000 people worldwide.
Worldwide attention
"We believe that good education is crucial to building a just, equitable, humane and sustainable society," Mr Premji said in a statement.
"We want to contribute significantly towards improvement of education in India, and through that towards building a better society."
One of the priorities of the new trust - which will be controlled by Mr Premji - is to establish a university in Bangalore to raise the quality of teacher training in India.
The tycoon - who has said before that he intends to give away most of his money - told Forbes in April that even if he gave his children a small part of his wealth, "it would be more than they can digest in many lifetimes".
Correspondents say that India's wealthy elite - there are 69 bilionaires in the country - have been criticised for lagging behind in charitable giving.
The issue gained worldwide attention in September, when Microsoft co-founder Bill Gates and investor Warren Buffett travelled to China to persuade the super-rich there to donate more of their money to worthy causes.
The American billionaires said they would try to hold a similar event in India next year.