Two foreign troops killed in Afghanistan suicide blast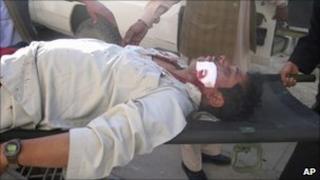 Two foreign troops have been killed in a suicide bombing in Gardez, in eastern Afghanistan, Nato has said.
The attack took place in a market outside a base used by troops from the Nato-led international force, a spokesman for the force said.
Two Afghan civilians were also killed and 18 wounded. Reports said the attacker wore an Afghan army uniform.
The Nato spokesman would not reveal the soldiers' nationalities, but most foreign troops in Gardez are American.
A Taliban spokesman said one of its suicide bombers had carried out the attack.
An increasing number of Taliban attacks have come from members who have either infiltrated the Afghan security forces or from militants wearing uniforms.
Rohullah Samon, a spokesman for the provincial government, said two shopkeepers had been killed and at least 18 people wounded, including three foreign soldiers.
Nato's International Security Assistance Force (Isaf) has about 130,000 troops in Afghanistan under its command, including many US troops.
There are a further 10,000 American troops under a separate US command, operating mainly in the east of the country.