Pakistan police face arrest over Benazir Bhutto murder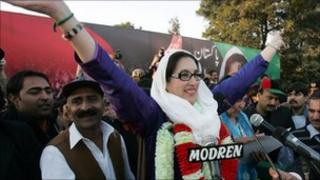 An anti-terrorism court in Pakistan has ordered the arrest of two senior police officers accused of negligence in the killing of former PM Benazir Bhutto.
She died in a 2007 gun and suicide attack in the city of Rawalpindi.
A special prosecutor says the officers - who include Rawalpindi's ex-police chief - had failed to make proper arrangements and then ordered the crime scene to be prematurely hosed down.
A UN report released in April said the killing could have been prevented.
The report - the result of a United Nations commission of inquiry - accused the Pakistani authorities of severely hampering the investigation and said no credible inquiry should rule out the possibility of involvement of members of the country's military and security establishment.
The UN report also criticised the Pakistani police's decision to hose down the crime scene, and said its failure to collect and preserve evidence "inflicted irreparable damage to the investigation".
On Sunday an anti-terrorism court issued warrants for the arrest of two senior police officers, said special prosecutor Chaudhry Zulfikar Ali.
'Responsible'
"The court has issued warrants and these are non-bailable. They can be arrested anytime," he told Reuters news agency.
"I argued that they were responsible for Bhutto's security and they failed to make foolproof security arrangements and they ordered the crime scene to be hosed down despite resistance from other officials."
He named the two as Saud Aziz, the former Rawalpindi police chief, and Khurram Shahzad, one of his deputies. They were not immediately available for comment.
The court will resume proceedings next Saturday.
Ms Bhutto was killed after an election rally, where she was campaigning ahead of parliamentary elections, just weeks after returning from exile.
A government investigation blamed the then supreme commander of the Taliban in Pakistan, Baitullah Mehsud. He denied being involved in the assassination and was killed in a suspected US missile attack in August 2009.
Five militants are already facing trial for alleged involvement in Bhutto's murder.