Sri Lanka's displaced: Numbers dwindling, says UN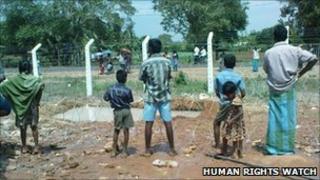 The UN in Sri Lanka says that the number of internally displaced people living in camps outside the former war zone has dropped drastically.
The announcement comes 18 months after the war ended and a year after camp-dwellers in the north were given some freedom of movement.
There are now about 20,000 refugees who are still not resettled and living in the Menik Farm camp.
That compares with more than 300,000 people when the fighting ended.
In recent months, the colours showing resettled areas of northern Sri Lanka on UN maps have been getting steadily deeper as their population density grows, with displaced Tamil civilians returning home from the camps.
Parts of the north, including much of Mullaitivu - the last stronghold of Tamil Tiger rebels - were completely devoid of people just 10 months ago.
Now, helped by de-mining, several thousand have gone back to their home villages there.
The government has given returnees modest grants and some house-building materials, although the UN's humanitarian affairs office says shelter, water, food and livelihood opportunities are still in short supply.
It says however that the authorities have been organising commendable initiatives to share information with those still displaced, including temporary visits to their villages for some still living in camps.
All this has happened largely unobserved by the independent media, which have to secure defence ministry permission to go to the camps or to most of the north.
This is usually not granted.
The defence ministry also now controls the registration of all non-governmental organisations working in Sri Lanka, both foreign and local.