India bans plastic tobacco pouches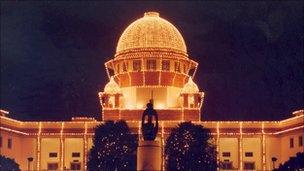 India's Supreme Court has banned the sale of tobacco products in plastic pouches - despite angry protests from manufacturers.
The move affects the packaging of several types of chewing tobacco and comes amid growing concerns about the impact of tobacco on public health.
Different types of chewing tobacco - including gutkha and paan - are extremely popular in India.
Medics are worried that they could be linked to some cancers.
This includes mouth and throat cancer.
Now there is a suggestion that the plastic wrapping is also harmful to health and the Supreme Court has banned the sale of tobacco products in small plastic bags.
The ban comes into effect from March next year and manufacturers are furious.
They say that thousands of processing units could be forced to close as a result.
They have been told to investigate alternative forms of packaging - and report back to the court.
Meanwhile the government has agreed to carry out surveys into the impact on public health of both the tobacco-related products and the plastic pouches.
The move does not affect the sale of cigarettes.
It is estimated that more than 240 million Indians use some form of cheap and addictive tobacco - which is linked to more than a million deaths every year.
The Indian government is slowly taking action and has forced cigarette makers to include warning symbols on packets.
Smoking in public places has also been banned - but critics say that rule is poorly enforced.
Related Internet Links
The BBC is not responsible for the content of external sites.