Rat in curry prompts cull at Bangladeshi university
By Ethirajan Anbarasan
BBC News, Dhaka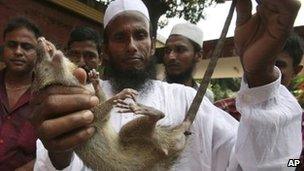 University officials in Bangladesh have ordered a major rat extermination drive after rodent meat found its way into chicken curry served to students.
The incident happened at Rajshahi University in western Bangladesh.
"One student detected the head of the rat while eating his lunch. That student instantly suffered a stomach upset," a spokesman told the BBC.
Soon after the incident hundreds of angry students staged a demonstration demanding action against the chef.
The chef has now been suspended and handed over to police who have been called in to investigate the incident.
"I told the students to stop eating in the dining hall of the university for two days. A drive to kill the rats in the dining hall is going on," university proctor Chowdhury Mohammad Zakaria told the BBC.
"It is a very unfortunate event and some 300 angry students gathered and protested against the unhygienic condition of food served in the university's dining hall.
"I must say that if I found rat meat in my food, I also would not be able to control my temper."
It was not immediately clear whether the rat meat was mixed with chicken curry intentionally.
In September 2009, a farmer was crowned Bangladesh's champion rat catcher after leading a team which he said killed more than 80,000 rodents in a month.
Mokhairul Islam was awarded a colour television at a ceremony attended by 500 farmers and officials in Dhaka.
The University of Rajshahi is one of the largest universities in the country and the largest in the northern region of Bangladesh.
Related Internet Links
The BBC is not responsible for the content of external sites.