India tobacco firms win health warning reprieve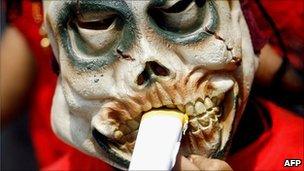 India's tobacco industry won a reprieve after the government said they could retain the existing pictorial warnings on their packages for another year.
Earlier, the health ministry had said that from 1 December tobacco firms must carry a graphic image of a mouth with cancer on all their packs.
Two top tobacco manufacturers halted production last week saying they were unclear over the pictures to be used.
India has about 120 million smokers and smoking kills a million people a year.
The government has decided to retain the current pictorial warnings for one more year, after which it will be reviewed in December 2011, news agency Press Trust of India reports.
According to the existing pictorial warnings, a scorpion and a cancer-affected lung are printed on all cigarette packs.
Authorities say the existing warnings are too mild to be effective.
ITC and Godfrey Phillips India stopped production at all their units last Thursday.
The government order on the new pictorial warnings has faced stiff resistance from tobacco manufacturers and the deadline for implementing it was postponed a couple of times in the past too.
In the last few years, India has come up with stringent rules to curb the use of tobacco.
Tobacco-related advertisements are banned and the sale of tobacco products to minors is also an offence.
A countrywide ban on smoking in public places came into effect two years ago - although correspondents say it is blatantly flouted and poorly enforced.
Related Internet Links
The BBC is not responsible for the content of external sites.