Suicide bomb kills 16 at market in north-west Pakistan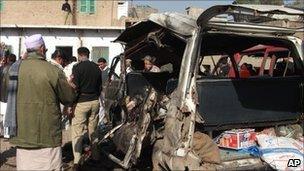 A bomb has gone off in a market in north-western Pakistan, killing at least 16 people, police say.
The explosion took place at a bus terminal in the main bazaar in the town of Kohat, close to Pakistan's border regions with Afghanistan.
Police say a suicide bomber carried out the attack.
The Pakistani Taliban claimed responsibility for two blasts at a government compound in the border area on Monday which killed 40 people.
A police spokesman in Kohat said the bomber on Wednesday had approached the door of a bus carrying passengers to the nearby tribal district of Orakzai and set off his explosives.
Many of those killed were on board the bus.
The head and legs of the suicide bomber, who was a boy aged about 15 or 16, had been recovered, Kohat police chief Dilawar Bangash told AFP news agency.
At least 25 people were wounded in the blast, some seriously. Many shops in the market were also damaged.
Kohat is close to Pakistan's border with Afghanistan, where Taliban militants are strong.
They have carried out scores of suicide bombings in recent years, despite government offensives against some of their strongholds.
Wednesday's explosion came a day after a suicide bomber failed to kill the chief minister in Pakistan's south-western Balochistan province, which also borders Afghanistan.
The banned Islamist militant group, Lashkar-e-Jhangvi, reportedly said it carried out that attack.