Varanasi bomb: Chidambaram suggests security 'lapses'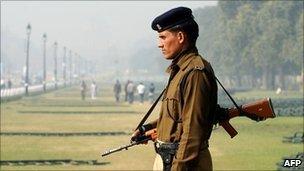 India's home minister has suggested there may have been some security "lapses" before Tuesday's deadly blast in the northern holy city of Varanasi.
P Chidambaram said the government had given Uttar Pradesh police a "specific" warning about a possible attack.
Police have questioned two people after the Indian Mujahideen, an Islamist group, said it carried out the bombing.
Indian cities are on alert after the blast, which killed a girl and injured 40 people, including six foreigners.
The small, improvised device was hidden in a milk canister at a bathing point on the banks of the River Ganges, near the Vishwanath temple.
The explosion hit devotees attending an aarti prayer ceremony at the Shitla ghat - one of the many stone staircases which lead down to the Ganges.
Specific intelligence warning of a possible attack at the nearby Dashashwamedh ghat had been sent by the federal government to Uttar Pradesh officials back in February, said the home minister.
State police had been warned again on Sunday to be on guard for a possible attack, Mr Chidambara said.
"I think the police made some arrangements," he said during his visit on Wednesday to the scene of the blast.
"But I think what has happened is that because the aarti takes place throughout the year, there may have been some lapses."
Uttar Pradesh Chief Minister Mayawati denied there had been any lapses in security.
Three people, including the mother of a two-year-old girl who was killed when the bomb went off, remain in a serious condition in hospital.
In an e-mail, the Indian Mujahideen said it carried out the bombing to seek revenge for the destruction by Hindu extremists on 6 December 1992 of the 16th Century Babri mosque in the northern Uttar Pradesh town of Ayodhya.
It also criticised a verdict by the high court in Lucknow that split the disputed land where the mosque used to stand between a Muslim group and two Hindu groups.
Police questioned two people in Mumbai after investigators said the e-mail had been sent from a computer in a suburb of the city.