Robert Gates says US strategy in Afghanistan is working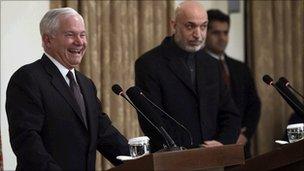 US Defence Secretary Robert Gates says he is "convinced" that the US strategy in Afghanistan is working.
After visiting US bases in Afghanistan over two days, Mr Gates said the goal of pulling American troops out of major combat roles by 2014 could be met.
He admitted that Nato and Afghan forces were suffering more casualties but said the security situation had improved.
US President Barack Obama has set July 2011 as the date to begin withdrawing forces from Afghanistan.
But the commander of Nato forces in Afghanistan, General David Petraeus, has said that he might advise President Obama to delay the exit plan.
"I will go back convinced that our strategy is working and that we will be able to achieve key goals set out by President Barack Obama last year," Mr Gates told a joint press conference with Afghan President Hamid Karzai in Kabul on Wednesday.
"The bottom line is that in the last 12 months we've come a long way, making progress that even just in the last few months has exceeded my expectations," he added.
Mr Gates said that coalition and Afghan forces were suffering more casualties "but there is no denying that the security climate is improving".
"The sacrifices of Afghan and coalition troops are achieving greater safety and security for both our nations," he added.
Support for the war in Afghanistan is waning in the US and other troop-contributing countries as the death toll continues to rise.
The number of foreign troops killed since the 2001 invasion is reported to have passed 2,000.
Related Internet Links
The BBC is not responsible for the content of external sites.