Sri Lanka child thought killed in 2004 tsunami is found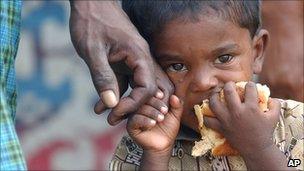 Sri Lankan child protection officials say they have found a six-year-old girl previously believed to have been lost or killed during the 2004 tsunami.
The girl was living with a couple who claimed falsely to be her parents, said Anoma Dissanayake of the National Child Protection Authority (NCPA).
"She was not legally adopted and her identification papers were falsified," Ms Dissanayake told the BBC.
"We will now be conducting DNA tests to find her real parents."
More than 30,000 people were killed in Sri Lanka during the tsunami and Ms Dissanayake said that it could take anything between a week to a year for her agency to find the child's parents.
Thousands of children were reported missing in the aftermath of the disaster and half a million people were left homeless.
Parts of the southern town of Galle - where the girl is believed to come from - were almost completely flattened in the disaster.
"Until her real parents are traced the girl will looked after by us," Ms Dissanayake said.
She said that officials from the NCPA discovered the child after a tip-off.
She said that two people - who had earlier purported to be the girl's parents - have been taken into custody and were being questioned by police.
"They told us that they had bought the child from a street beggar for 2,000 rupees (£11; $18). But it was obvious their story was untrue. You cannot buy children off the streets in Sri Lanka as if you were buying mangoes."
Ms Dissanayake said that there was no evidence that the girl - who has been attending a school in Colombo - had been mistreated by the couple although she did have "a few small scratches" and had complained to officials that her 15-year-old "brother" was sometimes unkind to her.
There was also no evidence to suggest the couple's two other children had not been legally adopted, she said.
Related Internet Links
The BBC is not responsible for the content of external sites.