US criticised in Pakistan drone report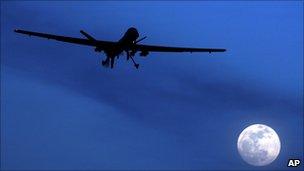 An international group has called on the US to acknowledge the number of civilians killed by drone attacks in north-west Pakistan.
The Campaign for Innocent Victims in Conflict (Civic) says it investigated nine recent cases involving more than 30 non-militant deaths.
The group says that it is not clear how many people have died in drone attacks in the past two years.
But it is thought to be about 1,000, with a higher number of injuries.
The US says very few are civilians.
"Despite the severity of losses and consequences of ignoring them, civilian casualties receive too little attention from US, Pakistani and donor-nation policy-makers, military officials and international organisations alike," the Civic report says.
"Overlooking the majority of civilians harmed or displaced by combat operations is undermining the Pakistani government's legitimacy."
The study was based on interviews over the past year with policy-makers, non-governmental organisations and more than 160 Pakistani civilians who suffered direct losses from the conflict in the north-west of Pakistan.
"Headlines focus on the horrors of terrorism in Pakistan, but Civic's research shows that civilians suffer greatly from a much broader range of conflict-related violence," it said.
"Pakistani military operations, particularly artillery shelling and air power, cause significant civilian losses.
"Civilians are caught between militants and Pakistani forces, while also suffering the consequences of extra-judicial killings, sectarian violence, explosive remnants of war and US drone strikes." it said.
Pakistan publicly criticises drone attacks, saying they fuel support for militants. But observers say officials privately condone the strikes - an allegation that appears to have been borne out by US diplomats in recent cables released on the Wikileaks website.
The US military and CIA do not routinely confirm that they have launched drone operations, but analysts say only US forces have deployed such aircraft in the region.
Related Internet Links
The BBC is not responsible for the content of external sites.