Delhi police move to protect women workers after rapes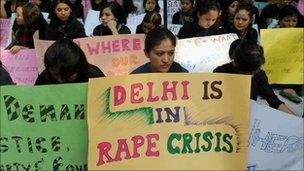 Police in Delhi have announced new safety measures to protect women who work at night, following the gang rape of a call centre worker two weeks ago.
Under the new measures, call centres, corporations and media organisations will be required to drop women workers at their front door.
Errant taxi drivers can be sent to jail and an employer can be charged with criminal negligence, police say.
Five men have been arrested in connection with the recent attack.
The victim was attacked in the early hours after an office cab dropped her off near her home in south Delhi.
The 30-year-old told police she had been abducted by men in a pick-up truck who took it in turns to rape her.
A female colleague who was walking with her managed to escape.
"Our police control room vans will conduct surprise checks and tail the cabs to see whether they are following the norms or not," the Hindustan Times newspaper quoted Delhi police spokesman Rajan Bhagat as saying.
"A woman employee can also directly complain to us," he said.
The list of guidelines issued by the police is extensive.
It says every cab will have to have a guard, women employees cannot be seated in the rear seats of a hatchback and a woman cannot be alone in the cab with the driver.
"If the road outside her house is not motorable, an armed security guard will accompany her till the doorstep," Mr Bhagat said.
The Indian capital and its satellite cities of Gurgaon and Noida are a hub of the information technology industry and have hundreds of call centres employing large numbers of women.
Delhi is often called the "rape capital of India" - police say they have recorded 402 cases of rape so far this year.