US concern at frisking of India envoy Meera Shankar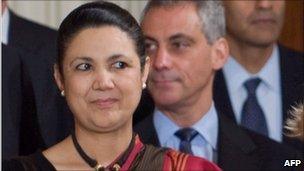 The United States has expressed regret over India's ambassador Meera Shankar being pulled out of an airport security line and frisked by a security agent.
Secretary of State Hillary Clinton said she was concerned about the incident and vowed to prevent a recurrence.
The hands-on search took place last week even after Meera Shankar's diplomatic status was revealed.
Some reports said Ms Shankar, who was on her way from a conference, was singled out as she was wearing a sari.
The search took place on 4 December at the Jackson-Evers International Airport.
Ms Shankar was about to board a flight to Baltimore after attending an event at Mississippi State University.
The Indian embassy in Washington strongly protested about the incident and External Affairs Minister SM Krishna called it "unacceptable".
"We obviously are concerned about it," Mrs Clinton told reporters.
"We will be looking into it and trying to determine both what happened and what we could do to prevent such incidents in the future."
US Homeland Security Secretary Janet Napolitano, however, said officials had handled the matter "by the book".
"It was a pat-down that followed our procedures, and I think it was appropriate under the circumstances," she told reporters.
Mrs Clinton's expression of concern has done little to pacify many Indians who perceive the incident to be an insult.
"It wasn't good public diplomacy and we will certainly be speaking with the American embassy here," Foreign Secretary Nirupama Rao said.
The opposition Communist Party of India (Marxists) went a step further, asking the government to adopt a "reciprocal" approach and subject the American envoy to security searches on domestic flights in India.
Last year, America's Continental Airlines apologised to former Indian president APJ Abdul Kalam for frisking him before he boarded a flight to the US.
Members of India's parliament were outraged after it emerged that Mr Kalam had been frisked and made to remove his shoes at Delhi airport in April.
Protocol exempts former presidents and other dignitaries from such searches.