Sri Lankan politicians to de-stress with yoga lessons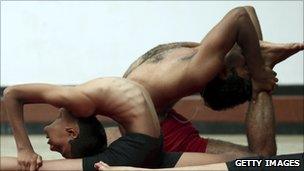 Sri Lankan members of parliament are to be offered yoga sessions at work, starting next month.
The aim is to eliminate their high levels of stress, the practitioners have told the BBC.
"With peace in Sri Lanka, the most stressed-out people are now the politicians," said the instructor in charge, Chamin Warnakula.
His yoga organisation has produced a leaflet headed "Yoga for MPs - For Mind, Body and Soul".
Breathing and posture exercises will "teach them discipline, good behaviour, and how to control themselves in stressful situations", he said.
"MPs get very stressed and they're not in a position to do other exercise," said his pupil, Sanjeewa Perera.
The sessions will be held at the start of parliamentary sessions and Mr Perera says they can wear the same outfit for the yoga and for the sittings.
Like some of its sister parliaments - for example, Britain's - the Sri Lankan chamber can be a very rowdy place.
In recent weeks the Speaker, Chamal Rajapaksa, has had to call MPs to order several times.
On Wednesday he suspended the proceedings and threatened to go home unless lawmakers behaved in a more professional way.
An opposition MP, Ranjan Ramanayake, accuses government MPs of constantly trying to intimidate and shout down those of this own party.
"We hope at least that by doing yoga they can learn to respect democracy and be more disciplined," he said.
It was a government member of parliament and film actress, Malani Fonseka, who had the idea for the sessions.
She told the BBC that if the lawmakers concentrated intently on what their bodies were doing, it would bring calmness to their minds, giving them a break from stress factors and helping them put things in perspective.
The organisers say a lot of parliamentarians have expressed interest in the yoga sessions.
Related Internet Links
The BBC is not responsible for the content of external sites.