Sri Lanka minister denies Tamil national anthem ban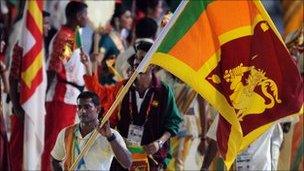 A Tamil minister in the Sri Lankan cabinet has denied reports that the Tamil version of the national anthem has been abolished.
Traditional Industries Minister Douglas Devananda said the idea was discussed in a cabinet meeting last week.
But he told the BBC President Mahinda Rajapaksa decided to keep both versions because no agreement could be reached.
Earlier reports that the Tamil version had been abolished followed a story in a Sri Lankan newspaper on Sunday.
But Mr Devananda has told BBC Tamil that although the idea was raised at last Wednesday's cabinet meeting, no decision was made.
The national anthem is only ever sung in Tamil in the north and east of Sri Lanka, where most Tamils live.
Confusion continued to reign over the issue on Monday as another government minister was quoted as telling AP news agency that the cabinet had indeed decided only the original Sinhala-language version of the anthem should be sung publicly.
Public Administration Minister John Seneviratne then denied making the comments.
Meanwhile, Housing Minister Wimal Weerawansa voiced his support for the idea of abolishing the Tamil version of the anthem, labelling the practice "a joke".
The Tamil anthem is an exact translation of the Sinhala version, sung to the same tune, and has been around since Sri Lanka gained independence in 1948.
The Sri Lankan army defeated the Tamil Tigers in May 2009 after the rebels had fought a 26-year battle for a separate homeland for the Tamil minority.
Related Internet Links
The BBC is not responsible for the content of external sites.