Bangladesh garment workers block roads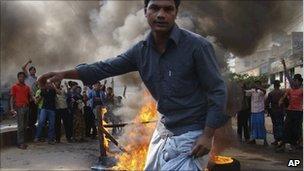 Thousands of Bangladeshi garment workers have picketed factories and blocked roads near the capital Dhaka, in a third day of protests.
They are demanding the implementation of a new minimum wage that should have come into effect last month.
On Sunday, three people died and scores were injured in the protests.
The unrest has paralysed the country's $15bn garment industry, which accounts for 80% of annual export earnings.
More than three million people, most of them women, work in Bangladesh's garment factories, which make clothes for major Western brands, including Wal-Mart, Marks & Spencer and Carrefour.
More than 4,000 workers blocked a main highway and demonstrated outside two plants in the manufacturing district of Gazipur near Dhaka.
"They have blocked the main highway linking Dhaka to the north of the country," Khandaker Shafiqul Alam, police inspector at Gazipur, told news agency AFP on Monday.
The authorities later managed to clear the road without violence, although the protesters remained on either side of the route and the situation was said to be tense.
The southern city of Chittagong was said to be calm on Monday, a day after at least three people died in clashes between the security forces and protesters.
Police used batons and tear gas to disperse protesters who attacked factories and smashed vehicles in the Chittagong Export Procession Zone on Sunday.
Almost all factories in the zone have now re-opened after the protests, officials said.
Labour unions say many of the factories are not implementing the new salary scale announced by a government wage board earlier this year.
From November, the factories should have been paying a wage of at least $43 (£27) a month.
Around Dhaka, workers in some factories have been protesting for a number of days, demanding increased pay.
Pay and working conditions have long been a source of concern in the country.