'Turban check' on Indian envoy at US airport sparks row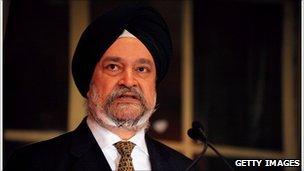 India's foreign ministry has expressed concern after another of its diplomats was reportedly subjected to a security search at a US airport.
It has emerged that India's UN envoy, Hardeep Puri, was reportedly asked to remove his turban at an airport in Houston, Texas, two weeks ago.
When the Sikh refused to do so, he was detained in a "holding room", say Indian media.
India's US ambassador Meera Shankar was frisked at a US airport this month.
Foreign Minister SM Krishna told the media in Delhi on Monday: 'We have taken it up with the US authorities and the matter [involving Mr Puri] is at that stage."
The BBC's Jyotsna Singh in Delhi says Sikh men are expected to keep all hair intact and their heads covered in public.
The turban symbolises self-respect, honour, and piety. Touching of the head dress in public is not allowed.
Normally the turban is only removed in the most intimate of circumstances, when washing the face or hair.
There was uproar in India after Ms Shankar was subjected to a hands-on search at an airport in Mississippi, even after her diplomatic status had been revealed.
The ambassador had been picked out of a security line at Jackson-Evers International on 4 December simply because she was wearing a sari, it was claimed.
US Homeland Security Secretary Janet Napolitano said at the time the search had been "appropriate".
But US Secretary of State Hillary Clinton expressed concern about the incident after India's external affairs ministry called it unacceptable.
Some Indian opposition politicians asked the government to subject the US envoy to security searches on flights.
Last year, Continental Airlines apologised to former Indian President APJ Abdul Kalam for searching him before he boarded a flight to the US.
Indians were outraged after it emerged that Mr Kalam had been frisked and made to remove his shoes at Delhi airport in April.
Protocol is meant to exempt former presidents and other dignitaries from such measures.