Pakistan teachers being killed, says Human Rights Watch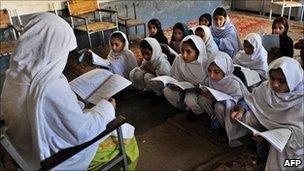 Militants are systematically targeting and killing teachers in Pakistan's south-western province of Balochistan, says Human Rights Watch.
At least 22 teachers were killed in the province between January 2008 and October 2010, says a report by the organisation.
The study documents dozens of attacks in Balochistan.
Despite being home to vast mineral resources, Balochistan remains Pakistan's most impoverished province.
It is the stage of a nationalist insurgency by local tribesmen. The province is also home to religious extremists.
Both groups are involved in the attacks on teachers, according to the Human Rights Watch report, Their Future is at Stake, which was published on Monday.
"If such killings and intimidation does not stop, the future is bleak, not just for Balochistan's children, but for prosperity and progress to ever reach the province," Ali Dayan Hasan, senior Human Rights Watch researcher in South Asia, told the BBC.
Human Rights Watch is the first international rights group to document how civilians are increasingly being targeted in Balochistan.
Its findings are based on testimonies and eyewitness accounts of relatives and colleagues of the victims.
Hundreds of teachers have now asked to be transferred out of the province as the attacks increase in frequency.
Most of those targeted are from the Punjab province. They have been singled out as retaliation for alleged excesses by the Pakistan army, which is dominated by Punjabis.
But local Sunni extremist groups allied to the Taliban have also been involved in the killings.
They have targeted members of the Shia sect, especially in the provincial capital Quetta.
Pakistan's government has been unable to control the violence so far, despite the deployment of additional security forces in Balochistan.
Related Internet Links
The BBC is not responsible for the content of external sites.