Sri Lanka frees 'pro-Tamil Tiger' doctor T Satyamoorthi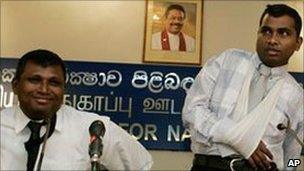 One of five Sri Lankan government doctors who was arrested at the end of the war in May 2009 has been acquitted by a Colombo court.
The doctors were accused by the government of exaggerating civilian casualties while treating Tamils in the final stages of the conflict.
They were arrested when they crossed into government-controlled territory.
The doctors were accused of aiding Tamil Tiger rebels and distributing untrue information to foreigners.
At that time the government blocked access to the independent media from getting access to the war zone - and also forced out non-governmental organisations.
"The Criminal Investigation Department told the court that they would like to withdraw the charges against me. Following this, the case was dropped," Says Dr T Satyamoorthi said.
While in police custody, the arrested doctors retracted what they said about war-related deaths in relation to Tamil civilians.
They said they had come under pressure from Tiger rebels to exaggerate the number.
Dr Satyamoorthi was released on bail during the last week of August 2009.
"I feel very happy today. I hope the others too will be cleared from these court cases," he said after the court ruling on Monday.
Dr Satyamoorthi is now the medical superintendent of Vavuniya hospital. Up until Monday he had to appear in court once a month.
Related Internet Links
The BBC is not responsible for the content of external sites.