Profile: Paras Shah, Nepal's errant former crown prince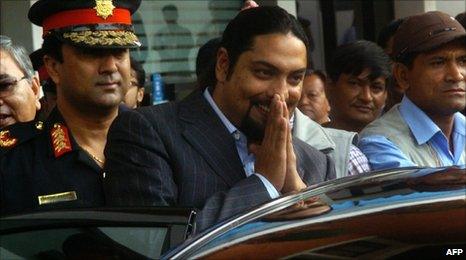 Former Nepali Crown Prince Paras Shah's detention by police amid claims he fired a gun during a drunken row is not the first time he has hit the headlines for all the wrong reasons.
He is facing a firearms charge after allegedly discharging a weapon into the air during an argument with relatives of the deputy prime minister at a restaurant in Nepal's Chitwan National Park on Sunday.
It was Mr Shah's playboy lifestyle as crown prince that partly fuelled the unpopularity of the now abolished monarchy in the conservative Himalayan nation.
The 38-year-old became heir to the throne after his cousin shot dead nine family members - including the king and queen - before apparently turning the gun on himself in June 2001.
Mr Shah escaped with slight injuries when Prince Dipendra opened fire during a royal dinner.
Many people in Nepal suspected Mr Shah of involvement in the palace massacre, which stunned the world.
But he told an inquiry into the tragedy that he had done all he could to stop the crazed prince, and managed to save the lives of several children present by hiding them behind a sofa.
After the bloodbath Mr Shah's father, Gyanendra, took over as king and four years later seized absolute power, sparking huge protests that eventually forced him to restore parliament.
Slogans denouncing the widely disliked Mr Shah featured prominently in rallies against his father's coronation.
The former crown prince has long had a reputation as a hellraiser, and his family have reportedly asked him often to rein in his alcohol consumption.
In 2000, he was reported to have hit and killed a popular Nepalese singer with his car while under the influence of alcohol.
There were angry demonstrations and more than 600,000 people signed a petition to the late King Birendra demanding action against Mr Shah.
But he never faced charges, and an army officer later claimed responsibility for the incident.
The former crown prince was also alleged to have hit a policeman with the butt of his automatic weapon after being stopped for drink-driving.
Mr Shah kept a low profile after the death of the singer.
In September 2007 he was rushed to hospital in the capital Kathmandu after suffering a mild heart attack.
The following year the Himalayan nation's 240-year-old Hindu monarchy was abolished as former Maoist rebels came to power after winning a 10-year insurgency.
Later in 2008, Mr Shah moved to Singapore with his wife and three children, but he has kept a home in Nepal and travels back and forth.
His wife, Himani Singh, who comes from a princely family in India, recently announced she would launch a fund to help deprived women and children in Nepal.
But any hopes the family may have had of currying public favour in the Himalayan nation could be set back by Mr Shah's alleged late-night escapades at Chitwan.
Related Internet Links
The BBC is not responsible for the content of external sites.