Pakistan Islamic party 'to withdraw from coalition'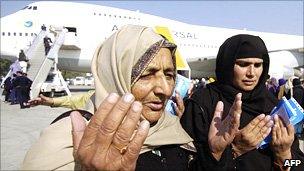 An Islamic party in Pakistan says it is withdrawing from the coalition government after a minister belonging to the party was sacked.
Science and Technology Minister Muhammad Azam Khan Swati was one of two government members dismissed by the prime minister.
The religious affairs minister has also been sacked.
Mr Swati has been accused of engaging in a public row over corruption allegations. He denies any wrongdoing.
Correspondents say that the departure of the Jamiat-e-Ulema-e-Islam (JUI) will weaken the unpopular government but not deprive it of a majority.
They say that while the government is highly unlikely to collapse - the JUI is a small coalition partner - the move will raise fresh questions over the political stability of Pakistan.
The party has seven seats in the 342-member national assembly and 22 in the 100-seat Senate.
"It is impossible to stay in the coalition. We are saying goodbye to the government," JUI leader Fazal-ur-Rehman said of Mr Swati's sacking on Tuesday.
The decision was taken after Prime Minister Yusuf Raza Gilani sacked Mr Swati and Religious Affairs Minister Hamid Saeed Kazmi, a member of his own governing Pakistan People's Party (PPP).
Mr Swati was reportedly sacked after engaging in a "war of words" with Mr Kazmi over a corruption scandal involving Pakistani pilgrims' accommodation in Mecca.
The scandal allegedly implicated Mr Kazmi's ministry in corruption while booking accommodation for about 80,000 Pakistani pilgrims.
Related Internet Links
The BBC is not responsible for the content of external sites.