India's micro-finance suicide epidemic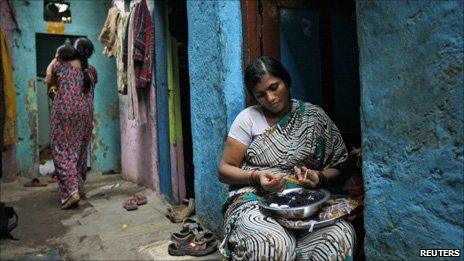 In his grotty, two-room brick home, all that remains of Ketadi Ramchandra Moorthy is a laminated colour photograph sitting on the cold cement floor.
Two months ago, the 40-year-old carpenter dropped dead after a heart attack at a bus station in Hyderabad, some 70km (43 miles) away from his rural home in the south-east Indian state of Andhra Pradesh.
He had travelled to the city to beg friends for cash to pay loans he had taken over the course of a year from private micro-credit firms.
A broken man, he had been heading back empty-handed to Gajwel village in Medak district.
A government report said Mr Moorthy had suffered a heart attack "due to pressure put by the micro-finance institutions for repayment".
"He was so stressed out that he just collapsed and died," says his wife, K Karuna, 36.
More than a third of the 30 million households that have taken micro-credit in India live in Andhra Pradesh. The majority of the borrowers are women.
But the small loan has turned out to be a big curse for many in the state.
More than 80 people have taken their own lives in the last few months after defaulting on micro-loans, according to the government.
This has triggered the worst ever crisis in India's booming micro-finance industry.
Scenting votes, opposition politicians have encouraged borrowers to halt repayments - micro-finance companies have given out 80bn rupees ($2bn; £1.3bn) of loans in Andhra Pradesh.
Banks, in turn, have stopped lending to micro-finance companies and fear they may not recover some $4bn in loans.
"Multiple lending, over-indebtedness, coercive recovery practices and unseemly enrichment by promoters and senior executives [of micro-credit companies] has led to this situation," says Vijay Mahajan, chairman of India's Microfinance Institutions Network.
India's micro-finance crisis mirrors the 2008 subprime mortgage meltdown in the US, where finance companies threw cheap and easy loans at homebuyers until prices crashed and borrowers were unable to sell their homes or pay their debts.
But the difference in India is that the borrowers are even poorer, with zero social security.
Mr Moorthy's story is a tragic example of how micro-loans - annual interest rates vary from 24-30%, compared with the 36%-120% charged by usurious money lenders - can lead impoverished, ill-educated people to ruin.
This defeats the supposed purpose of micro-credit, with all its talk about improving the lives of the poor.
In 2002, Mr Moorthy took a loan worth $350 from a micro-credit company to build his $2,210 home.
Half of the money came via an interest-free loan his wife - who rolls tobacco leaves for a living - took from her employers.
A moneylender chipped in another loan worth $440 that is yet to be repaid.
In May 2008, micro-credit salesmen descended in droves on Mr Moorthy's village and he took a second loan worth $330 to pay off small debts to his neighbours.
This second loan, the family say, was paid off within a year.
Undeterred by the debt trap he was falling into, and persuaded by aggressive micro-credit agents, Mr Moorthy borrowed $660 in three loans from as many companies.
These were to pay for the education of his three children, including a college-going son, and, again, to repay previous debt.
When he died in October, he had been defaulting on the latter three loans for up to 20 weeks.
Mr Moorthy's monthly earnings, say his family, usually never exceeded $110.
"Loans have been given to rural people without checking whether they had the capacity to repay," says Reddy Subrahmanyam, the state's most senior rural development official.
The government estimates families that have taken micro-loans in Andhra Pradesh have an average debt of $660, and an average annual income of $1,060.
This means more than 60% of their fragile, uncertain income is being spent paying off loans.
Two months after his death, Mr Moorthy's family struggles to survive, pawning jewellery and depending on the generosity of caring neighbours and vote-seeking politicians.
The eldest son, K Ramanachari has had to give up the college education that cost his father so much.
The 19-year-old has found a job ferrying tobacco leaves on baskets once a week, earning about 100 rupees ($2.2) for a day's work.
Mrs Karuna rolls tobacco leaves during the day and then, if she is lucky, finds farmwork in the evenings.
All this fetches her less than $3 on a good day.
She pawned her silver and gold jewellery, worth nearly $200, to keep a roof over her children's heads and send them to school.
Two leading politicians, including the state's main opposition leader Chandrababu Naidu, have lent her $1,100, which she plans to deposit in a bank.
"Big or small, loans kill. I will never take up another loan," says Mrs Karuna.
Sometimes a loan taken to save a life can end up taking a life in the debt-stricken villages of Andhra Pradesh.
Mylaram Kallava, 45, hanged herself from the ceiling of her mud hut in the neighbouring village of Ghanapur after she defaulted on four micro-loans amounting to $840.
The loans were taken to pay for medical treatment for her 17-year-old daughter's appendicitis and her eldest daughter's pregnancy, which ended in a miscarriage.
The nearest government hospitals were more than 70km (45 miles) away, forcing Mrs Kallava to seek private treatment which was well beyond her means.
The three loans were taken in July last year - Mrs Kallava was in default for just two months when she killed herself.
It did not help that her grave-digger husband, Narsimhulu, 55, was in poor health and found work only now and then.
The federal jobs-for-work programme in the village stopped in August, leading to an acute shortage of employment in the area, locals say.
"I could feel that my mother's tension was building up when she began defaulting," says her daughter, Sangeeta. "She was unable to get work.
"Her co-guarantors in the group came to the house and asked her to explain. I think she felt ashamed."
For seven days before she took her life one weekday evening, Mrs Kallava had been unable to find any work.
The micro-loan recovery agents were due to come knocking by the end of that week.
She did not wait for them.
This is the first in a two-part series by Soutik Biswas on the micro-credit industry in India.
Related Internet Links
The BBC is not responsible for the content of external sites.