Indian mines company accused of unlawful deforestation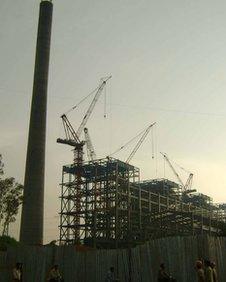 A subsidiary of the Vedanta mining group in India has cleared forest land apparently in violation of Supreme Court orders, the BBC has learned.
Papers made available to the BBC reveal that Sterlite Industries cut down the trees while constructing a new power plant in Chhattisgarh state.
Last year the chimney of the plant collapsed, killing more than 40 people.
Sterlite officials deny unlawful deforestation, arguing they have only cut down trees on privately-owned land.
Sterlite controls controls 51% of shares in the Bharat Aluminium Company (Balco) in Chhattisgarh and is also in possession of 1,751 acres of forest land.
Papers seen by the BBC accuse the subsidiary of carrying out "non-forest activities" in the area without prior permission.
The two government reports - dated October 2010 - said that trees were cut down in an area owned by the state government which is officially designated as forest land in government records.
The Vedanta group has been in the news recently after the Indian government denied it permission to mine bauxite in the Niyamgiri hills in the state of Orissa.
An inquiry to establish whether Balco is in contempt of the Supreme Court's orders - which banned the felling of trees at the site in 2008 - is now under way in relation to the Chhattisgarh allegations.
A Congress party leader in the state has named senior Balco officials as being in contempt of court.
Balco insists that any tree felling was carried out following permission granted by district officials on private land only - and that the Supreme Court had not placed any restraints on such action.
It says that no trees have been felled on government-owned forest land.
However, documents accessed by BBC appear to show that this is not the case. The documents contain satellite mapping technology which reveals that a large number of trees were indeed felled in about 90 acres of forest land.
Related Internet Links
The BBC is not responsible for the content of external sites.