Wikileaks: Rahul Gandhi feared Hindu extremist threat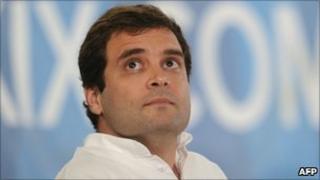 Rahul Gandhi, widely tipped as a future Indian PM, believed Hindu radicals might be a greater threat than Islamist militants, diplomatic cables reveal.
According to Wikileaks, Mr Gandhi told a US envoy last year there was some support among Indian Muslims for militants such as Lashkar-e-Taiba.
But he told ambassador Timothy Roemer the greater threat could come from the growth of radical Hindu groups.
Opposition politicians were angered, suggesting Mr Gandhi has "a sick mind".
Mr Gandhi was at a lunch hosted by Indian Prime Minister Manmohan Singh for US Secretary of State Hillary Clinton in July 2009, Ambassador Roemer wrote in a cable a month later.
He recalls Mr Gandhi saying: "Although there was evidence of some support for Laskar-e-Taiba among certain elements in India's indigenous Muslim community, the bigger threat may be the growth of radicalised Hindu groups, which create religious tensions and political confrontations with the Muslim community."
In a statement released on Friday, Mr Gandhi - scion of India's Nehru-Gandhi political dynasty - stressed that "terrorism and communalism of all types" was a threat to India.
But opposition Hindu nationalist Bharatiya Janata Party spokesman Prakash Javdekar told AFP: "To call Hindu groups more dangerous than Lashkar-e-Taiba is the product of a sick mind."
Rahul Gandhi, who is secretary general of the Congress party, caused controversy in October when he compared a right-wing Hindu group with a banned Islamic group, saying both preached fundamentalist ideologies.
Other revelations relating to India in the latest Wikileaks cables include: