Sri Lanka ends ban on UN war crimes probe team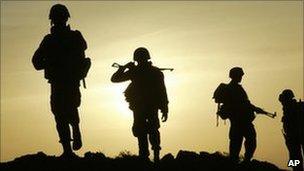 Sri Lanka's government says it will now allow a team of UN investigators to visit the island, reversing an earlier refusal to grant visas.
The three-man panel was appointed in June by the UN secretary general to look into alleged war crimes in the final stage of the government's war with Tamil Tiger rebels in 2009.
Sri Lanka angrily opposed the move and set up its own internal commission.
Colombo now says the panel may visit and share evidence with its inquiry.
Sri Lanka consistently denies its forces violated international humanitarian law during the long conflict, maintaining that only the Tamil Tigers did.
People suggesting otherwise are often labelled as traitors in Sri Lanka.
The fact that Colombo has changed its mind and will now admit to the country the panel is something of a concession, says the BBC's Charles Haviland, in Sri Lanka.
Announcing the relaxation of the ban, Sri Lanka's foreign ministry confirmed on Saturday what UN Secretary General Ban Ki-moon told reporters a day earlier: that his panel - an Indonesian, and American and a South African - would visit the island.
The ministry said they would be admitted so that they could make a presentation to Sri Lanka's own domestic commission investigating the war's final years. No date has been set.
However, our correspondent says it is unlikely that the UN experts will be given free rein to go around making investigations.
Six months ago the Sri Lankan foreign minister said the members of the UN panel would not be granted visas and described the initiative as "unwarranted interference".
In July another government minister, Wimal Weerawansa, led a cabinet-backed hunger strike and protest against the panel outside the UN's local compound.
Our correspondent says that same minister - a maverick, ardently nationalist lawmaker - is still insisting that the panel be "given no space" to visit Sri Lanka.
The panel's visit would help "accomplish enemy objectives", Mr Weerawansa recently said, urging all Sri Lankan people to protest against their presence in the country.
The UN estimates that Sri Lanka's conflict killed up to 100,000 people, displaced hundreds of thousands more and held back the island's growth and economic development.
Related Internet Links
The BBC is not responsible for the content of external sites.